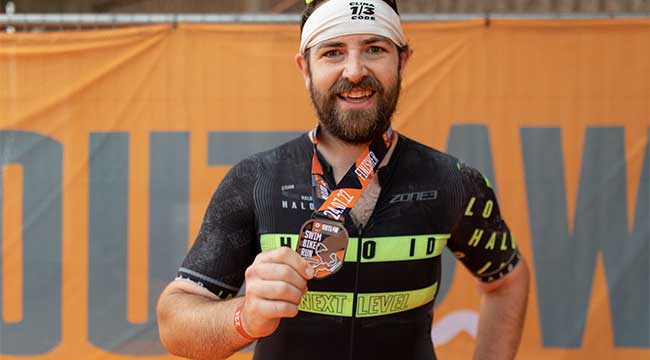 Official Outlaw Triathlon Series Coaches
Outlaw has two official Coaching providers – Simon Ward and Halo ID. They have been selected based on their detailed knowledge of Outlaw and experience as coaches.
If you are considering following a structured training programme, working with Simon or Halo ID will provide a level of insight and accountability that will help you.
How will a triathlon coach benefit me?
Adjustments – You may be following a plan but struggling to fit it all in or adjust it around your life. A coach can help you re plan based on your own personal circumstances and help you keep sight of your goals.
Accountability and motivation – There's nothing like telling someone else your aspirations and being answerable and accountable to them, especially when things get tough!
Confidence – Athletes have good days and bad days and a coach can help you to understand that this is part of the process and instil confidence that you are headed in the right direction.
Community – Connect with others with working towards the same events.
Simon Ward has worked with Outlaw since we launched in 2010 and has helped hundreds, if not thousands, of triathletes reach the finish line. He has a set of 20 week (and longer) plans that can be tailored around your goals and lifestyle using TrainingPeaks – access your programme and your coach on your phone, laptop or tablet at any time.
Outlaw Half training plans start from less than £100
Outlaw full training plans start from around £110
Find out more: https://www.trainingpeaks.com/coach/simonward#trainingplans
Halo ID is a community based club for everyone that wants more from the Endurance world! It's run by Tim Don and Ian Dempsey. There are three levels of programmes and signing up includes a group Zwift ride every 2 weeks run by Tim or Ian, exclusive tips and access to product discounts. Programmes are delivered through TrainingPeaks with regular access to your Outlaw coach.
12 Week Outlaw Half training plan £300
16 Week Outlaw Nottingham (the full) plan £450
Find out more: https://www.halo-id.com/memberships