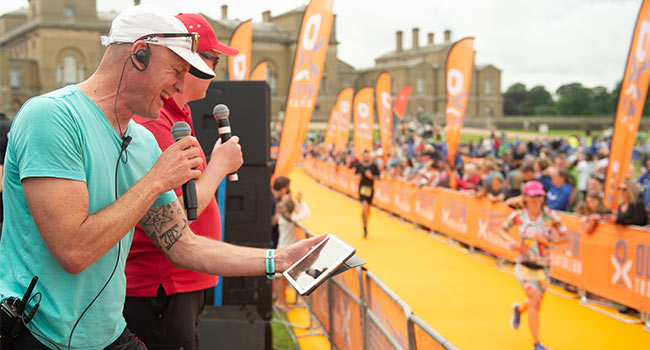 Festival Atmosphere at Outlaw Half Holkham
There was a festival atmosphere and glorious sunshine at Holkham Estate in North Norfolk as 2500 athletes took part in the Outlaw Half Holkham weekend. The event featured running and triathlon events as well as a rare opportunity to camp within the stunning grounds.
Outlaw Half Holkam attracted support from the Professional Triathletes Organisation to entice some of the best British athletes to race alongside amateurs, including large numbers from local clubs including Tri Anglia and Tri Sudbury.
James Teagle and Ruth Astle were the top performers in the middle-distance triathlon covering a 1900m lake swim, 56mile bike ride and then a 13.1mile run.
Teagle, from Leicestershire, started as the race favourite in the PTO Professional race and delivered on his pre-race billing in style, commenting: "A beautiful venue, I want to thank Outlaw and the PTO for allowing us to race."
Leeds based Ruth Astle was delighted with her first professional win, saying: "I've not even had a professional podium before, so to take a win is really nice."
Outside of the professional ranks, personal goals were realised and thousands of pounds were raised for charities.
Sam Holness moved another step closer to his goal of becoming the first black triathlete with autism to race as a professional.
Both Gary Goacher and Graham Yare successfully completed the course. They have done every single Outlaw Half and full distance race since the Series was launched in 2010. They will go again over double the distance at the Outlaw Triathlon in Nottingham on 25 July.
There are two more Half distance events in September, including the newest event at Bowood Estate on 12 September. For entries visit www.outlawtriathlon.com.
Outlaw Half Holkham, 4 July 2021
1900m swim, 56mile bike, 13.1mile run
PTO Professional Event
Men
1. James Teagle, 3:52:13
2. Kieran Lindars, 3:55:48
3. Sam Wade, Brighton Phoenix, 3:56:32
Women
1. Ruth Astle, 4:20:27
2. Kimberley Morrison, 4:32:52
3. Claire Weller, Tri Harder, 4:40:34
Elite Event
Men
1. Harry Palmer, 3:57:55
2. Andrew Horsfall-Turner, 4:01:46
3. Hugh Brashaw, 4:02:24
Women
1. Rosie Weston, Team Cherwell, 4:28:36
2. Hannah Lord, 4:31:50
3. Lucy Davies, Riot Racing Club, 4:38:26