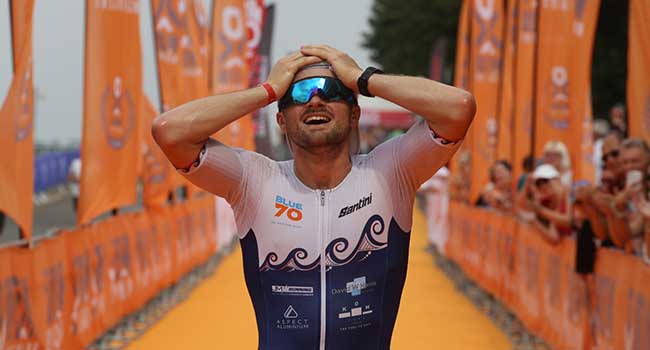 Course Record Falls to Horsfall-Turner
The course record was broken by Andrew Horsfall-Turner, and Kerry Hickson set the second fastest women's time ever time at the Outlaw Triathlon on 25 July. It was a celebratory day with the biggest ever number of entrants and a large and vocal spectator audience spread out around the National Watersports Centre in Nottingham.
Sunshine welcomed athletes to the Regatta Lake at 6am. Athletes had 17 hours to complete the 2.4mile swim, 112mile bike ride and 26.2mile run. It took Horsfall-Turner just 8hours 26:27 and Hickson 9:31:40. Both set their best ever times over the distance to claim victory.
They both also lead from start to finish, exiting the water first and maintaining their leads until the finish.
Horsfall-Turner said: "I'm still a bit gob smacked… over the moon. As always, I did it the hard way, lead from the gun. I led the swim out, didn't see a soul on the bike. To be fair, the volunteers, the marshals, the lead bike on the run, they all kept me going and kept me motivated."
Behind him, Ian Dempsey was also inside the previous course record and Kit Walker, the previous record holder, was just outside his best despite losing time due to a puncture during the bike leg.
Hickson said: "The run hurt a lot, but the one thing I wanted to do was keep smiling throughout the run, that was my plan. I love this race so much. The aid station and the Pirates – just amazing!"
Rebecca Duxbury overtook Claire Weller at the 21 mile point on the run. They finished second and third, both setting new personal best times.
The Outlaw continued late into Sunday night, with the later finishers being guided around in the dark to get to the party and fireworks at the finishing line. There were stories of over overcoming cancer, mental health battles and all sorts of personal challenges to complete the Outlaw, ensuring that it was an emotional, celebratory day for everyone.
After a difficult few years of race cancellations and flooding in 2019, Outlaw 2021 was an overwhelming success thanks to the hard work of an army of volunteers that ensured everyone was supported around the course.
Outlaw Triathlon, 25 July 2021
3800m swim, 112mile bike, 26.2mile run
Men
1. Andrew Horsfall-Turner 8:26:27
2. Ian Dempsey 8:35:39
3. Kit Walker 8:45:09
Women
1. Kerry Hickson 9:31:40
2. Rebecca Duxbury 9:43:51
3. Claire Weller 9:45:18
Relay
1. Team 100% Tri, 8:59:17
2. Team Leg Ends, Ipswich Triathlon Club, 9:15:22
3. Team Seanin & Gill, Bedford Harriers AC, 9:59:16